Once my kids left home it became really hard to know what to get them for Christmas. So since I'm a lousy mind reader, I decided the best approach was to just ask. So that's what I did. I asked my college-age daughter to poll her friends to see what's on their wish lists. Here is a list of gifts for college students taken straight off their Christmas wish lists.
If it feels like it's harder to buy for your kids when they're older…it is. They're at the age where they have definite likes and dislikes, and lots of the things that they like, are foreign to us. And they're not always real vocal about what they want (unlike when they were little and couldn't wait to tell anyone and everyone what they were wishing for…the good old days!).
Technology gifts for college students
I don't know a kid who is college aged who isn't hooked on their technology. And since they are, they love, love, love gifts that give them more access, or that help pay for what they've already come to love.
All of my kids are big music lovers and these wireless ear buds allow them to listen (and tune other things out). They're easy to stick in a pocket or purse and the case makes them easier to keep up with.
---
When I talked to our daughter just a couple of days ago she mentioned that the new Apple Watch was high on her wish list. She's a fan of all the features and specifically stated that she wanted to be able to track all of her physiological functions.
---
The Amazon Echo Dot voice-controlled device plays music from their various accounts (Spotify, Pandora, etc.), reads audio books, gives traffic and weather reports, and is adding new functions all the time.
---
This Bluetooth keyboard connects to their iPad, tablet, or other mobile device. You know that college kids consider wires to be "old-fashioned".
---
Your favorite college student will love the ease of printing the photos on their phone with this Canon IVY Mini Photo Printer. They'll need to put an app on their phone and then they can print out the photos they want using wireless bluetooth technology. Super convenient!
---
I have to admit these water speakers were new to me. But we got a set for our daughter last year and she loves them. Even I have admit they are kind of fun!
---
Gift ideas college students can use in their rooms
I have no idea whether the claims about these salt lamps are true or not, but they say that the negative ions released into the air help people with allergies, and asthma, purify the air, and improve sleep. They're also pretty cool looking too.
---
Dorm rooms can be seriously lacking in personality…until you add some. String lights are a great way to add a little light, up the fun factor, and let others know your passions or interests. These string lights have a marine/ocean theme and are cute as can be.
---
Gifts to help college students stay warm
Dorm rooms – and apartments too for that matter – can feel pretty cold (especially if you have no control over the thermostat). A set of flannel sheets can add some much needed warmth! These come in a multitude of colors to suit whatever decor your kid likes.
---
A warm pair of house shoes can come in handy because floors in dorms can get pretty cold in the winter!
---
This adult onesie pajama set is is playful and fun…and it's also warm! This one comes in several different color choices.
---
A cup of coffee can give you a boost of energy for those late night study sessions. It's also a great way to warm up when it's cold outside. This mini Keurig lets your favorite college student brew just a little at a time…and it won't take up much space in their small space.
---
Gifts to keep your college student organized and stress-free
It's easy to let good habits go off the rails when you're a busy college students. This daily/monthly habit tracker lets them plan the habits they want to work on and then track their daily and monthly progress. It's undated which allows for flexibility whenever they're ready to get started.
---
I've used lots of planners through the years and Planner Pad is one of the best. It allows the user to group things they need to do into categories (like certain classes) and then assign those tasks to specific days and times. I can see where college students would find this a fantastic planner to help them stay on top of all the things they have to do.
---
College is nothing is not stressful! And even adults (and young adults) need a way to relieve that stress. This particular stress relief toy doesn't look too childish, in fact, it would add an air of sophisticated whimsy that your college student wouldn't be embarrassed by. At the same time, it will give them something to focus on when they need a little down time.
---
Gift subscriptions keep the love coming all year long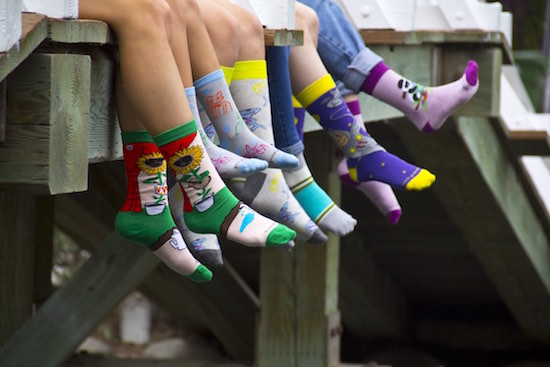 Two of my kids love fun socks. In fact, it's something I can always throw in their stockings to make them happy. But Sock Panda lets you deliver a gift to your favorite college student (or anyone else, for that matter) each month. Your sock loving college student will look forward to finding what's new.
---
I've been amazed at the variety of subscriptions you can get at Cratejoy. Whether it's boxes filled with snacks or bath and beauty products, Cratejoy has something for everyone.
---
Gifts for college students to use in their kitchens
There are, of course, the old standbys when you're shopping for your college-aged children. Candy and snacks, clothes, sporting equipment, and money – naturally. There isn't a college kid alive who will turn their nose up at the green stuff. But sometimes moms (and dads) want something tangible to show their child how much they love and miss them.
What better time than Christmas for that to happen?
More to help with your shopping needs: